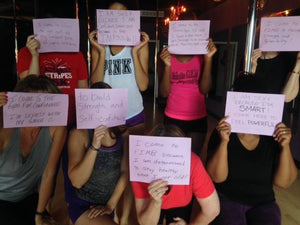 7 truths about Pole, Pole Fitness, and Polga (pole yoga)

7 truths about Pole, Pole Fitness, and Polga (pole yoga)
Polga is a full body workout
Pole fitness and yoga are both full body workouts, so when you combine the two, JUST IMAGINE. It is resistance training, stretching, strengthening and cardio in one. Flexibility is improved because you have the assistance of the pole. 
"Not having upper body strength" is not an excuse to not try it.
This is quite possibly the most common argument I hear against wanting to try any kind of pole based exercise. There will always be hundreds of reasons not to try. Maybe you aren't at your ideal weight, or you are not "flexible", or you think you're too old. Why not stop creating roadblocks? You'll build skills as you grow and learn. That is part of what's so inspiring and empowering about it.  Whether you're uncoordinated and can't lift your own body weight you can benefit from pole, it is always a good idea to try something new. 
Even though pole fitness is growing in popularity, it can still be judged.
Despite progress in the public's understanding of what pole is, many of us still fight stereotypes. Some of pole fitness loudest critics have never tried it themselves. Even if what we pole fitness and Polga (pole yoga) is completely athletic and far removed from the type of pole dancing performed in strip clubs, we still need to explain ourselves.
Pole is for everyone
There is pole enthusiast of all professions, ethnicities, religions, cultures, sizes, and ages. I have made connections with people all over the world because of pole.
Pole is emotionally healing.
This is one of the biggest reasons I created Polga (pole yoga). The physical benefits are great, but the feeling you get from performing the movements and poses is indescribable.   You can stretch and relax out any emotion in class, whether joyful, angry or sad. The combination of fitness, yoga, and pole make it incomparable to any other form of dance or fitness program. To me, it is both dance and sport woven together into one beautiful, athletic art form.
 Still a Stigma
As the creator of Polga (pole yoga), I am aware of the discrimination that comes along with pole fitness. That is why whenever, I come across people with a negative mindset, I try to inform them of the benefits of pole. Some people are open to change, and others are just are not. When I come across these negative people I hold my head high and know that I am creating a program that allows people of all ages, shapes, and sizes to become stronger, more flexible and live a healthier happier, and more "flexible" lives.
Change is coming 
Proof of this change is that the pole population is growing at phenomenal rates! Pole has grown so much that most every city has a pole studio, and often several. I am constantly looking for ways to help people grow mind, body, and soul. Change takes time and is not welcomed by all. As more time passes, people will accept pole and Polga (pole yoga) as a legitimate form of exercise and fitness. 
---